Popular Favorites of 2015 along with new plants for 2016
Of the Annuals We Grow
While Calibrachoa, more commonly known as Million Bells have been one of our go-to favorites for years, we are excited to grow a few new colors this year! But first, we have to look back and share one of our favorites from the last two years that's sure to make your list too, just in case you haven't seen it yet- We love it that much! Drum roll please…from Proven Winners…Lemon Slice™ Calibrachoa. The striking combination of bright yellow and white will draw all eyes to your planters, hanging baskets and flower beds. In addition to Lemon Slice and many other colors, we are also growing Holy Moly!™ (below) and Evening Star™ this year. Holy Moly's color combination is as fun and funky as its name, with dark pink splattered over a yellow base. It will have you saying "Holy Moly, I love this flower!" over and over again.
Each year, do you look and hope for the ever-so-hard to find blue flower to accent window boxes and pots? And like most, do you lose your beautiful, bright blue Lobelia to the heat of our summers? Have no fear, there is a fabulous find for you! Although it's not brand-new this year, we are excited to grow Proven Winners' Blue My Mind™ Evolvulus. Commonly known as a Dwarf-Morning Glory, Blue My Mind with do just! This low-growing annual's deep sky blue flower against its silvery green foliage will blow your mind, as will it's summer performance. In fact, once its roots are established, the hotter the better for this drought, heat and humidity-loving variety.
Of Herbs and Vegetables- Good Eats!
While Rue is often used in Ethiopian cuisine, this herb's aromatic leaves also help repel insects.
Have you seen the Rapunzel Cherry Tomato? This fruit grows in the most unique way! As its name suggests, Rapunzel grows as a long strand bearing numerous fruit along its hanging vines.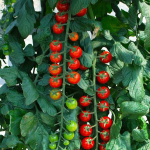 Of Locally-Grown Perennials and Shrubs
Rosie Posie Agastache is a long-blooming, low-maintenance, hummingbird-attracting perennial.
Asclepias Tuberosa, also known as Butterfly Weed, is a slow growing, native butterfly magnet with orange flower clusters in mid/late summer. Hello Yellow is a newer variety that bears golden yellow flowers.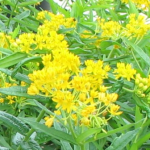 Although most folks asked for the crimson-red Dynamite Crape Myrtle in 2015 (more than pink and purple varieties), this summer look for Double Feature. Growing 10-12' tall, this sterile Crape Myrtle bears cherry-red/magenta over maroon foliage in August.
We sure are looking forward to these exciting, new plants! We hope you are too!