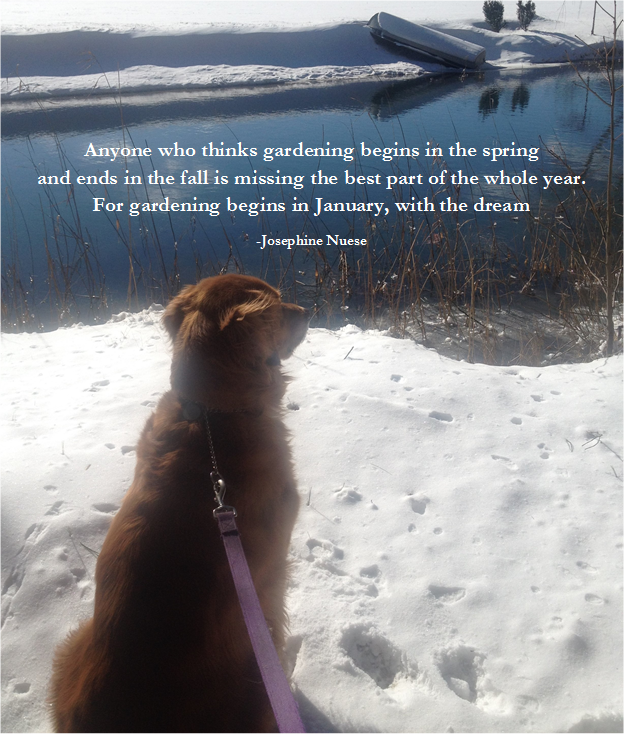 Although we're closed for the winter season and it's too cold to even think about working in the yard, January is a great time to dream of grand plans for your lawn and garden. Since taking on your entire outdoor living area may be intimidating, consider focusing on a specific space- whether it's your lawn, flower beds, patio, or pond. Maybe you'll pick a spot that's been overlooked and overgrown.
If your lawn is looking less than lush, check out Jonathan Green's New American Lawn guide. This simple plan focuses on feeding the lawn as well as the soil with the acronym USA: Use Black Beauty genetically superior grass seed mixtures. Stimulate soil biology and relieve soil compaction with Love Your Lawn- Love Your Soil. Adjust soil pH upwards rapidly with Mag-I-Cal. So this winter visit Jonathan Green's website (It's packed with great resources!), read up on the importance of healthy soil along with great turf grass and consider this new approach for a beautiful lawn.
If it's your flower beds you'd like to focus on, what are your goals? As you pick and plant assorted annuals year after year, do you wish you had a plan to plant perennials instead? This winter set out to research various perennials. Consider color, size, texture, and bloom times. It may be overwhelming if you wait until spring, so take time this January to develop a plan for planting hardy perennials to enjoy for years to come.
Or if you're like me and love the bright, long-lasting colors annuals offer but tend to plant the same flowers each year, start dreaming about ways to change your garden habits! Winter is a great time look for new varieties and color combinations. We'll help! Check back in February to read about some of the Fabulous Finds We LOVE for 2016!
Whether you hope to improve your lawn or garden this year, start to dream big and make a plan. After all, gardening begins in January! Tis the season to begin planning the projects you'd like to dig your hands into this spring.